The first Abstract Art Museum in Belgium
The Abstract Art Museum is the first one in Belgium and the fourth in the world. It is located right next to the house in Jette where René Magritte lived for many years. Nowadays, both buildings are connected with each other. The museum shows mainly Belgian abstract art. The collection consists of more than 750 works, a third of which will be shown permanently. The second floor contains the historical avant-garde from the 1920s, with important names such as Servranckx, Vantongerloo, Peeters or Flouquet. In the beginning Magritte also painted in this style and counted many abstract artists among his friends. The ground floor and the third floor showcase the second generation of abstract artists (from the 1950s to the 1980s and further), including geometric and lyrical abstract artists (such as Alechinsky, Pol Bury, Bertrand, Rets, Delahaut).
Artists in the collection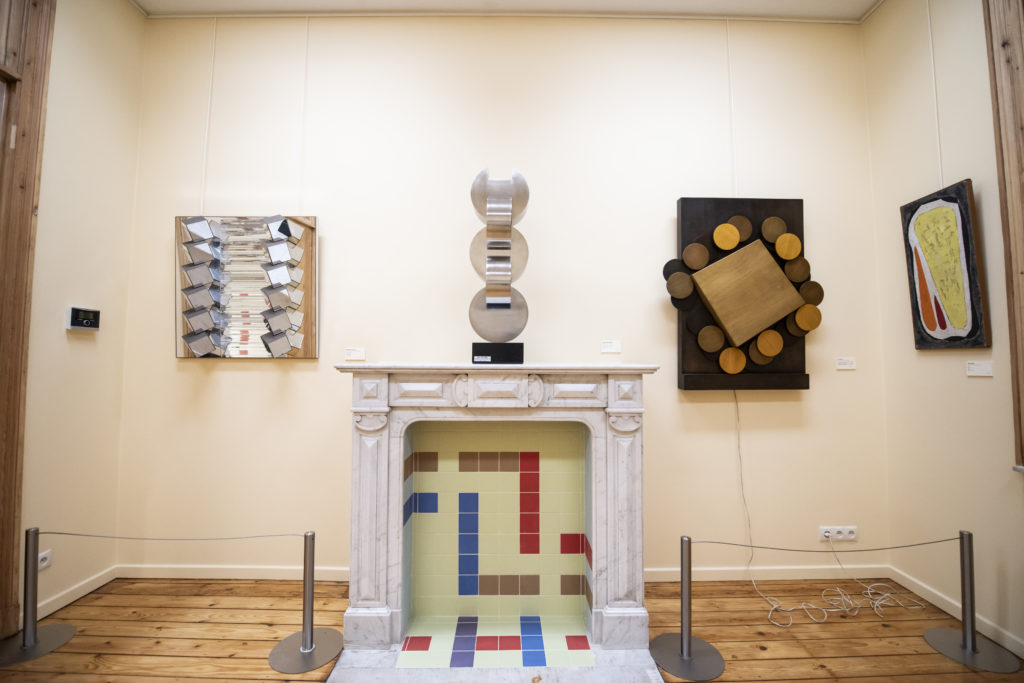 Ground floor 
Alechinsky Pierre, Bertrand Gaston, Bogart Bram, Bonnet Anne, Burssens Jan, Bury Pol , Carrey Georges, Decock Gilbert , De Mey Gaston , Delahaut Jo, Dries Jan, Dubois Jean Dudant Roger, Gangolf Serge, Guiette René, Hoeboer Wout, Hoenraet Luc, Holley Francine, Huin René, Lacasse Joseph, Lambelé Antonia, Lewy Kurt, Martens Michel, Milo Jean, Moeschal Jacques, Noël Victor, Ongenae Joseph, Overberghe Cel, Quinet Mig, Peire Luc, Ramon Renaat, Raveel Roger, Rets Jean, Saverys Jan, Seuphor Michel, Singier Gustave, Swimberghe Gilbert, Van Anderlecht Englebert, Van Breedam Camiel, Van Hoeydonck Paul, Van Lint Louis, Vanden Borre Guillaume, Vandenbranden Guy, Verheyen Jef, Vonck Ferdinand, Wuidar Léon, Wybaux Fritz.
Second floor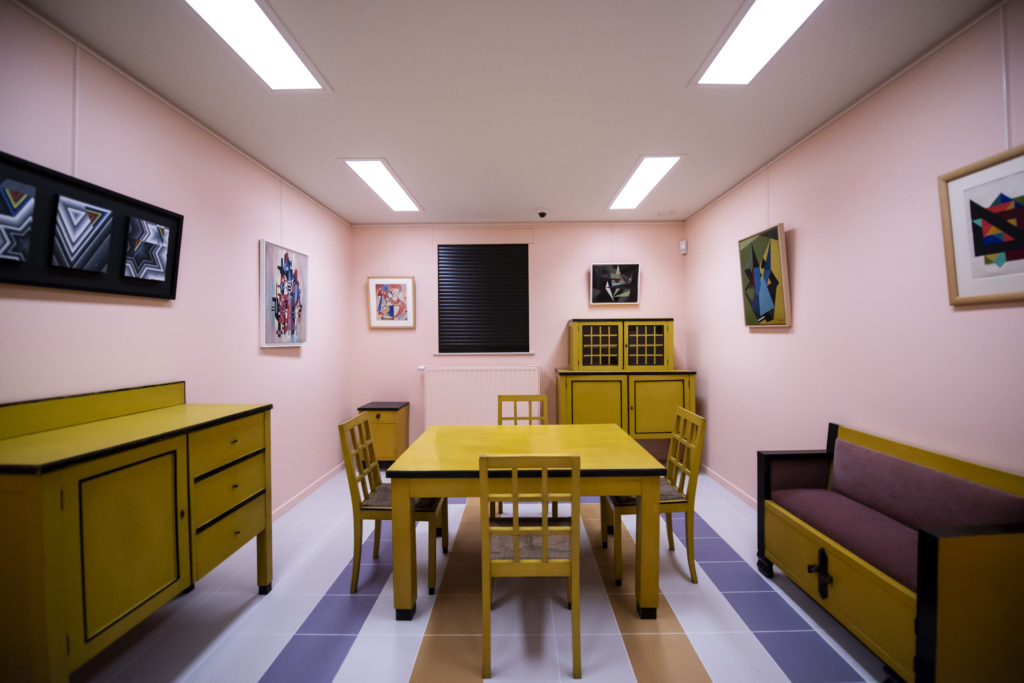 Baugniet Marcel-Louis, Closon Henri-Jean, Cockx Jan, De Boeck Felix, Delhez Victor, De Troyer Prosper, Donas Marthe, Eemans Marc, Engel-Pak Ernest, Flouquet Pierre-Louis , Gailliard Jean-Jacques, Hoste Huib, Kessels Willu, Kiemeneij Jan, Lacasse Joseph, Lempereur-Haut Marcel, Léonard Jos, Maes Karel, Peeters Jozef, Schmalzigaug Jules ,Servranckx Victor, Van Dooren Edmond, Vantongerloo Georges, Vandercammen,Edmond Wolfs Hubert
Third Floor
Alechinsky Pierre, Anthoons Willy, Arnould Marcel, Bertrand Gaston, Burssens Jan, Bury Pol, Claisse Genevièvre, Collignon Georges,  Demeester Renée, Dorchy Henry, Dotremont Christian, Dries Jan, Gentils Vic, Gilles Ray, Goderis Jack, Guiette René, Ibou Paul, Jespers Floris, Lambelé Antonia, Leblanc Walter, Lewy Kurt, Mara Pol, Marstboom Antoon , Mendelson Marc, Michaux Henri, Noël Victor, Plomteux Léopold, Rets Jean, Saverys Jan ,Singier  Gustave, Van Anderlecht  Englebert, Van Lint Louis, Van Sumere Hilde Vandenbranden Guy, Verstockt Mark, Wyckaert Maurice.
Exhibited aternately 
Art Raymond, Beullens André, Bilcke Maurits, Boel Maurice, Borgrave Elie, Cluysenaar John, Cortier Amedee, De Roover Carlo, Dewinne Robert, Dubail Berthe, Dumont Marcel, Franck Paul, Ganzevoort Wybrand, Greisch Roger, Guillain Marthe, Hauror, Heerbrant Henri, Helleweegen Willy, Heyrman Hugo, Kayler Richard, Kerels Henri, Laenen Jean-Paul, Martini Remo, Maury Jean-Pierre, Moyano Louis, Meerbergen Rudolf, Miodrag Dordevic, Orix Bill, Prosi Henri, Seghers Wilfried, Silvin (Bronkart), Soos Joska, Stéven Fernand, Verdren Marcel, Vanermen Walter, Vermeulen Noël, Weyer Jacques, Wybaux Fritz